This week the Brilliant Burnley entrepreneurs and future business managers had an opportunity to find out about the wealth of support available to those with big ideas for the future.
The socially distanced event was a huge success. Attendees were especially impressed with The Landmark's building and facilities which have become a great asset to the business community of East Lancashire.
Attendees listened to inspirational stories from top businesspeople, and then broke off into smaller groups to put their questions to the experts.
"In Burnley we like to take things into our own hands" says Mark Crabtree OBE, Director of The Landmark and main organiser of the event.
Mr Crabtree has set himself the mission of promoting a 'can do' attitude and entrepreneurial spirit in local residents made redundant because of the covid health crisis.
Mr Crabtree is one of Burnley's most successful businessmen and the man behind The Landmark. His message was clear and simple. If you've been made redundant, you're not alone, and if you've got a business idea now is the perfect time to set out on the way to starting a company.
It's a well-trodden path, but with the facilities available at The Landmark, and the level of support up for grabs, there's never been a better time to start a business.
Mr Crabtree commented:
"40 years ago when I started my own firm the UK was in a similar situation economically to where we are now. Unemployment was on the rise and people were worried about the future. Back then there was no support for new businesses. Now there's a fantastic amount of help available, and we're bringing as much of it as possible into one place."
The kind of advice on offer for free at The Landmark yesterday, and the calibre of the panel is testament to Mr Crabtree's vision.
Each speaker introduced themselves and their organisations. They spoke about their own experiences in business and discussed the different support packages on offer.
Representing Boost Lancashire, Andrew Leeming was the second member of the panel to speak. Boost Lancashire is a "growth hub" and one of 38 around the country.
"The amount of business support on offer these days is overwhelming" he said. "Boost Lancashire is there to help people find the assistance they need, we're a growth hub and we're here to accelerate new businesses into profitability. We do that by offering coaching, mentoring, and business relationship management."
The third speaker was Simon Brierley from East Lancashire Chamber of Commerce.
He commented:
"We've been using The Landmark for a while now for conferences and events, and we're very impressed with everything on offer here. Being a business manager can be a lonely job and networking is a great way to overcome that and develop business relationships along the way."
Neil Burrows, from Themis, was the fourth speaker to address the room. He's the Assistant Principal at Burnley College.
"Burnley College is there to help people get the skills they need to be successful in business. We're running a training programme called Destination Recovery which aims to align Burnley College with local businesses, helping them to achieve their goals through training and staff development" he said.
The next speaker was Patrick Byrne from Barclays Eagle Labs. There are 25 Eagle Labs around the UK including one permanently on site at The Landmark.
Mr Byrne commented:
"We're on a mission to make the UK the best place to start up and grow a business."
"Collaboration is key and part of my role at The Landmark is to create a community of likeminded people by coworking and putting on business development events."
Barclays Eagle Labs offer support to new businesses of all kinds, including access to finance and even 3D printers for product prototypes.
The final speaker was Murray Dawson, a strategic marketing expert and Managing Director of Scott Dawson Advertising. He's got 30 years' experience in business growth and development.
Mr Dawson said:
"The Landmark is a business incubator and a new way of working. New companies can benefit in so many ways."
"Corporate image and reputation are absolutely vital at every stage of a business. For £20 a month this iconic building becomes your company's image."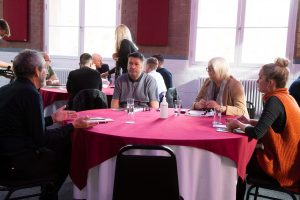 One of the main points to come up was that start-ups can struggle to portray themselves as professional organisations. New companies need great products and services, but they also need to inspire confidence and that begins with operating from a professional location.
Leah Pilkington was one of the attendees at the event, she commented:
"I was made redundant and now I want to start a business that supports people in different ways. I felt out of my depth but now I've spoken to Mark I feel like I can do this. I can make it happen."
Another enterprising attendee was Michael Blackburn, he was recently made redundant and wants to start his own business:
"I've never run a business before and I feel like I need a lot of support so somewhere like this ideal."
New start-ups working from domestic residences have problems in terms of logistics and visiting clients. That's one of the benefits of working somewhere like The Landmark. It means that from just £20 a month, new businesses can have an impressive location to base their operations. They can also benefit from a resident accountant, lawyers, and financial advice in the form of Barclays Eagle Labs.
If you weren't able to attend the event there is a short video available here
For more information about The Landmark and the support packages on offer to entrepreneurs contact The Landmark directly on 01282 940095 or visit the website for full contact details www.landmarkburnley.co.uk