"Coronavirus", according to a recent article in Mckinsey and Co, "has brought about a global experiment in distance working." The result has been fascinating and with long term implications on the working world.
We've adapted. We've adapted well and we've adapted quickly, but there's still a long way to go.
Before corona, most people thought that offices were vital for productivity, central to building a positive image and culture in an organisation. Having a modern office, in a great location was also thought to be key to attracting and retaining talented staff.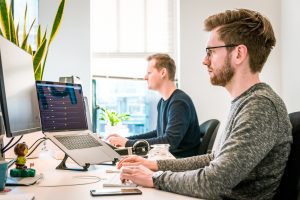 Now we're beginning to realise that those things are all assumptions and not at all proven.
Let's start by busting the myth of great offices attracting great staff. Consider this:
If you're prepared to let your staff work from any location in the world, you can employ people from anywhere in the world. Suddenly the pool of talent you could recruit from has grown by billions.
The pandemic caught us by surprise, it snuck up on us and presented us with a sink or swim moment. Business leaders in particular are using the lessons learned to reinvent the working environment. With two thirds of the population working from home, people are questioning the value and necessity of an office – and with good reason!
The fact of the matter is that without a vaccine or perhaps divine intervention, the office environment as we knew it before is simply not feasible.
Unless coronavirus magically disappears, we will all have to continue wearing face masks, maintaining social distancing and keeping up all the other precautions – indefinitely.
It's going to make a full return to the office uncomfortable, awkward, and improbable.
Where does that leave people? What does that mean for the vast majority of the working population?
It means finding new ways to work, and new locations
For most people working from home isn't the solution. There's too many distractions and it's difficult to get into the right frame of mind. There's something about leaving the house in the morning which helps you prepare mentally for work.
So if you can't work from the office and you don't want to work from home, that leaves you with quite a problem.
The Landmark at Burnley could be just what you're looking for. We've got everything you need and expect from a modern office in the city, but much closer to home for people living in and around East Lancashire.
The Landmark have put all the precautions in place for a safe working environment, like social distancing measures, antibacterial hand gel stations, ventilation, but on top of that we've everything you need to keep your productivity up.
At The Landmark we can supercharge your creativity and networking
It's exactly what we've been set up to do. Our coworking spaces are ideal for a post-covid return to work, without a return to the traditional office.
In most offices, pre-covid, networking and collaboration meant having a quick chat at the water cooler. At The Landmark, we specialise in networking and collaboration. We even put on special events to facilitate those things like Friday afternoon drinks.
The typical office space is divided up. It's a separated area, with individual covid safe cubicles. It's true even in the car park! It had to be like that because people needed a place to work with minimal distractions. In a traditional office around 80% of the space is set out for individuals and 20% for collaborative work.
At The Landmark that's reversed. The future of the business world is not about competition, it's about collaboration and we've got everything in place to facilitate that in a socially distanced way.
Visit The Landmark in our iconic building in centre of Burnley, call us on 01282 940095 or email info@landmarkburnley.co.uk to talk to a member of staff and arrange a tour of our facilities.